Beloved McDuffy Park Renovations A Passion Project for Partners
Green Spaces Play an Important Role in Bringing A Community Together
"Parks play a vital role in the health and well-being of youth and adults alike; a fact never more evident than during the pandemic. Connecting people to their parks enhances social well-being, relationships and environmental health."
Cindy Code
Executive Director
Project EverGreen
By Lauren Meir, Rocket Community Fund
After more than a year apart, people are finally beginning to reconnect. Whether they're lacing up their skates, hitting the courts, or playing a game of baseball, Detroiters are ready for summer. Rocket Community Fund is proud to work with our partners on providing opportunities to connect in safe and fun ways in parks and other public venues. Seeing these green spaces fill up again feels especially transformative after the trauma of last year.
"Parks play a vital role in the health and well-being of youth and adults alike; a fact never more evident than during the pandemic," agreed Cindy Code, Executive Director of Project EverGreen. "Connecting people to their parks enhances social well-being, relationships and environmental health."
The Rocket Community Fund's most recent investment with Cleveland-based nonprofit Project EverGreen is a prime example of our commitment to building thriving community spaces, and it could not have come at a better time.
The $280,000 grant will support Project Evergreen's mission to promote a greener, healthier, cooler earth through community initiatives that revitalize parks and public green spaces. The Rocket Community Fund and Project EverGreen will continue to work together with our Public Spaces team to identify new park renovations in Detroit, and our first major project on that list is the revitalization and expansion of the newly renamed Antonio McDuffy Park.
"Green spaces play an important role in bringing a community together, and this partnership and the revitalization of McDuffy Park is a perfect example of how improving public spaces can also improve outcomes for our residents," said Laura Grannemann, Vice President of the Rocket Community Fund. "We are proud of this investment that will provide access to a safe and inclusive space that Detroiters can be proud of."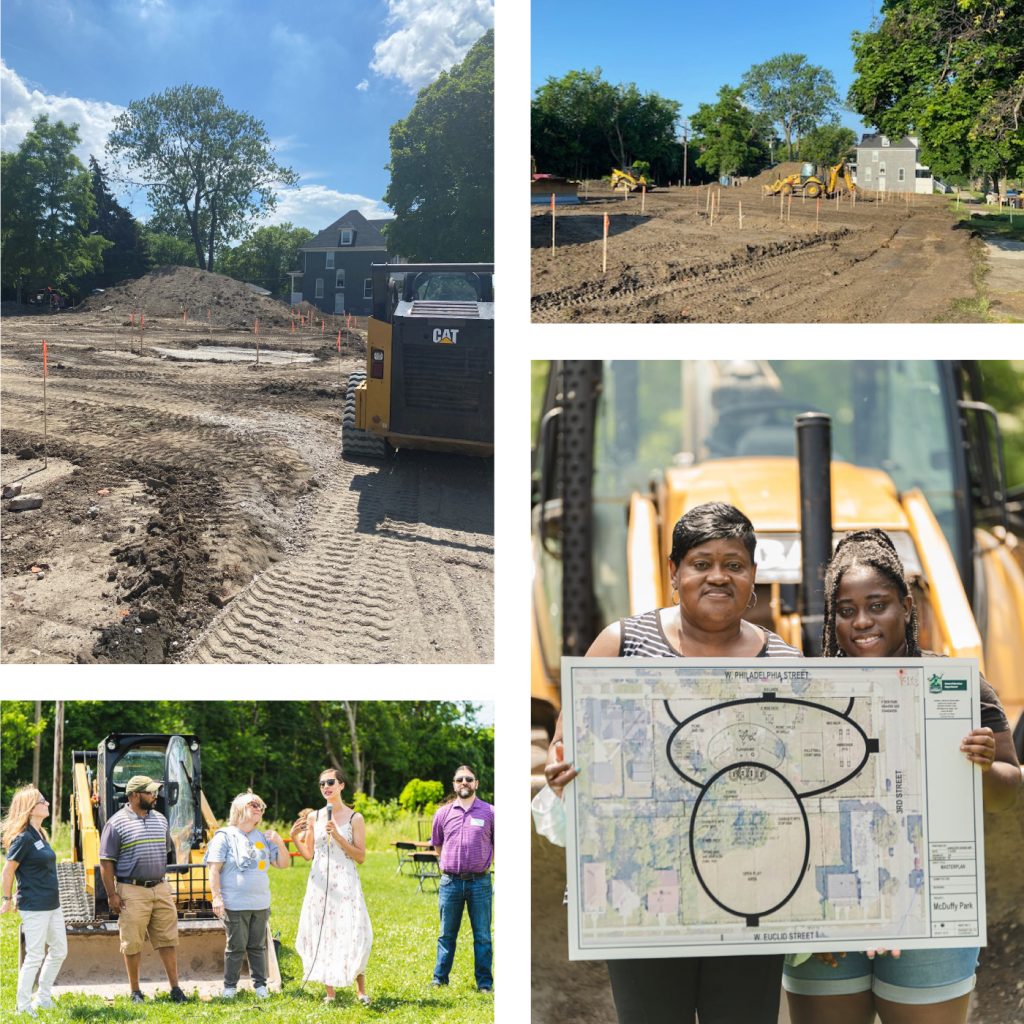 McDuffy Is So Much More Than "Just A Park"
Currently, there isn't an activated park within walking distance of the Piety Hill neighborhood, just a small, outdated playground and picnic area. Our investment will support Project EverGreen's plans to develop this space into an expansive park, renamed to honor the life of tireless community advocate and beloved area resident Tony McDuffy.
This park will be an important community gathering space for residents, children, and visitors to Piety Hill. McDuffy Park will also serve as an active, safe, and easily accessible space for community members with amenities for individuals of all abilities.
"This is such an important space for the residents of the Piety Hill neighborhood," said JJ Velez, Director of Public Spaces at the Rocket Community Fund. "The development of this park will serve as a catalyst for growth and increased economic stability for the residents and the City of Detroit," he said. "Equally important are the new opportunities for people in our community to form lasting bonds with each other. This park will serve as an integral communal gathering space for friends, neighbors and visitors."
The project is of special significance to Cayla Chamberlin, Senior Program Manager on the Rocket Community Fund's Public Spaces team. Cayla has been a longtime advocate and leader on this project and sits on the board of Project EverGreen.
"Everyone deserves a 'third place' outside of their work and home to frequent and the pandemic has re-enforced that parks are integral third places in our city," Chamberlin said. "Safe, inclusive, and accessible public spaces are critical and important elements of every City and projects like this allow us to create these spaces in partnership with the Community to move Detroit closer to having world class parks in every neighborhood."
New Park Inclusive and Environmentally Friendly
Chamberlin is especially proud of the Rocket Community Fund's ongoing partnership with Project EverGreen to increase community engagement to create safe public space that are better for the environment, too. "One of the most impactful things about our partnership with Project Evergreen and Central Detroit Christian is that these organizations worked hand-in-hand to lead community engagement in a constructive and engaging way," she said. "All of their work deeply involved the communities that they work in, every step of the way. Additionally, Project EverGreen leads from an environmental perspective and it's critically important we continue to address how parks and public spaces can aid in our collective efforts to fight climate change."
So, what can Piety Hill residents and visitors to the city expect to see in McDuffy Park? For starters, the park will double in size, to about 1.5 acres. The City recently acquired adjacent lots from private property owners, which will include the demolition of a vacated alley and soil grading work. New trees will be planted, along with the creation of an open grass play area. A concrete walkway will be installed, as well as new picnic tables, bike racks, benches and a horseshoe pit. Finally, construction of a brand-new inclusive playground will create a safe, engaging space for neighborhood children to play and connect.
Park renovations for phase one began in early June and are slated to be completed by the end of the month. "Together with Rocket Community Fund's generous grant and in collaboration with the City of Detroit, local businesses and the residents of Piety Hill, we can create a healthy, thriving park for generations to come," Code said.
Additional sponsors and supporters of the project include Ralph C. Wilson, Jr. Legacy Funds of the Community Foundation for Southeast Michigan; Magna/Magna Seating; Premier Group Associates; PEA Group; The Davey Tree Expert Co.; and Re-Tree, LLC.
Learn more about Project EverGreen's GreenCare for Communities initiative
This blog originally appeared on the RocketCommunityFund.org